A Seat at the Round Table with WAMC's Joe Donahue
This "Edible Voices" interview first appeared in Edible Capital District, May/June 2015. Photo by Jenn Bakos.
Joe Donahue always wanted to be a radio guy. As a kid, he hung out at stations in the Philadelphia area where he lived and eventually landed some broadcasting jobs. When his family moved up to Greenwich, NY, in the mid 1980s, Joe matriculated at the College of Saint Rose and earned his degree in communications. In 1994, he signed on at WAMC Northeast Public Radio, where he has become a fixture for the past 21 years.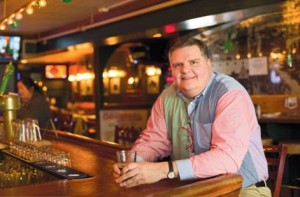 Joe Donahue enjoying a local brew at the Washington Tavern in Albany.
While Joe currently serves as the vice president of news and programming, most listeners know him as the host of "The Round Table," a general interest talk show that airs every weekday from 9am to noon. He moderates a panel of journalists who explore hot-button issues. Joe also hosts "The Book Show," a half-hour program in which he interviews notable authors and discusses their works and their lives.
"I'm still jazzed by what I do," Joe said. "I get to talk to new and interesting people every day, newsmakers of all types."
Joe Donahue enjoying a pop at Washington Tavern in Albany.
Joe and his wife, Kelly, live in Greenwich with their yellow Lab, Brady. The two commute daily to Albany, with Kelly driving while Joe prepares for his day at the WAMC studios. "I am always reading and doing my homework." Not surprising for a guy who literally grew up surrounded by books: His mom was a librarian who drove a bookmobile with baby Joe snuggled in the car seat!
A typical day sees Joe on air in the studio from 9am till noon, followed by a quick lunch then back to the studio to tape future interviews and prepare for upcoming shows. "We try to have a month's worth of interviews ready to go, which gives us some security as well as flexibility to incorporate breaking news."
And those fund drives? "Endurance tests! It takes about a week to recover! We're on air seven hours a day, talking nonstop until we reach our goal. But they're also fun because we can be pretty candid and go off-the-cuff a bit, let our personal sides come through. And it's a real team effort, as you can imagine."
Now to turn the table and interview the King of Interviews!
Edible Capital District: How do you and Kelly eat and cook on weeknights? Weekends?
Joe Donahue: We eat home most nights. On late nights it's a light supper and when we have time it is a bit more involved. We like cooking together (and with the dog). So, we tend to eat around the butcher block in the center of the kitchen and talk about the issues of the day. Weekends are family affairs. They are big dinners with my in-laws bringing dishes and often including my brother and sister in-law and their three kids. We grill year-round and shop for good cuts of meat and good craft beers.
ECD: A few staples in your fridge or pantry?
JD: There is always pasta, soup and ingredients for baking. Another staple is Taylor Pork Roll. It's a breakfast ham from Philly where I grew up and it's rare to find around here. But I know a few spots that carry it and I stock up.
ECD: Describe a favorite meal or eating tradition of the week.
JD: We are huge fans of church/community dinners. We seek them out year-round and go to as many as we can find. Some are really great. Right now we are in Lenten fish fry season—that's a special time. And then, it's time for chicken barbecues.
ECD: Any guilty food or drink pleasures?
JD: Food: King's Donuts from the King's Donut Cart in Cambridge, NY. They are divine and worth the wait in line. Drink: craft beer from the Argyle Brewing Company in Greenwich, NY. (I am less guilty about that one.)
ECD: Describe a typical—or ideal—day off.
JD: On a day off, we like to spend time home. We often feel so rushed during the week, with work, so having time to enjoy our surroundings is quite lovely. On a lazy day we spend quality time with the dog and binge-watch favorite TV shows. During the summer, we spend our days at a family camp we have on a local lake.
ECD: How do you find the time to prepare for your shows, researching and reading and conducting interviews?
JD: We all are given the same amount of time and I have become pretty good at balancing prep time while reading various books, watching certain videos, studying articles. The key is that I book interview topics I care about, which makes it easier to read around the clock.
ECD: Name a few of the more memorable interviews you've had and why they struck you.
JD: I have been amazingly lucky. In most cases, I have talked to the authors I read, the actors I see and the politicians I vote for (and the ones I don't.) That is a true gift. When I think about this question, I immediately flash to spending time on the set of "Sesame Street" and sitting in Big Bird's nest and having Oscar the Grouch on my hand. That was a thrill. Meeting and interviewing idols and mentors is also rewarding. That list would include Bob Newhart, Fred Rogers, David Letterman, Stephen King, Arthur Miller and Kurt Vonnegut.
ECD: The WAMC fund drives are pretty grueling. However, I understand that local businesses generously donate goodies to fuel the staff and volunteers. What are some of the standout comestibles offered during those marathons?
JD: My favorites include Mother Myrick's Lemon Lulu and their Butter Crunch. Cabot Cheese is another favorite.
ECD: If you weren't a "radio guy," what might you be?
JD: A few years ago, I would have struggled with this question. And then about five years ago, I became an adjunct professor at my alma mater—The College of Saint Rose. I never thought I could enjoy something as much as radio. However, teaching really smart and great kids about broadcasting and interviewing has been a thrill.
ECD: Any mentors or sources of inspiration?
JD: When I was a broadcasting student in high school, I wrote a letter to Mr. Rogers— Fred Rogers. I was doing a cable access show (this was 1985) for kids and I asked him how to properly communicate with small children. From that point, he was a friend and mentor who provided gentle advice and guidance as well as praise and enthusiasm. He continued to do so throughout college and the start of my career and up until he passed away in 2003. I think he did his last interview with me. He was sick then and we both ended up crying—more from joy than sorrow.
ECD: Best coffee shops, breweries, eateries, etc. in the Capital District, in your opinion?
JD: Best Ice Cream: the Ice Cream Man in Greenwich. Best Brewery: the aforementioned Argyle Brewing Company. Best Restaurants: One One One in Greenwich and Clark's Steak House in Schuylerville. Best Chocolate Milk: Battenkill Creamery in Hebron. Best Breakfast: the Village Café and Bakery in Greenwich.
ECD: You're a strong proponent of "buy local."
JD: I am. We will go out of our way to support business in our village, town and county. It's a bit of an obsession and often a fun challenge. Even chain stores in our town support local jobs so we will frequent them. It becomes a strong mindset and a habit. We trained ourselves to do this and now it comes quite easy.
ECD: You've lived in the Capital District for nearly 30 years. How has the food and drink culture evolved in that period?
JD: That is hard to say, because I think our tastes change as we age. I will say that our compulsion to buy local has become easier because there are so many more and varied vendors throughout the region.
ECD: Words of wisdom you would impart to anyone who harbors a dream, outlandish or feasible?
JD: I'm not sure I am qualified to answer. I have wanted to do what I am doing since I was 5. So, I am either incredibly devoted and focused or horribly narrow-minded. I started in radio when I was 10 (doing commercials) and have been doing it professionally since I was 18. I thought about it, and I just did it. If that can be translated into wisdom, so be it. Otherwise, I just feel real really lucky and fortunate.