Plant the Fields and They Will Come
This article first appeared in the (Martha's) Vineyard Gazette, August 8, 2008
It's August and summer's bounty is reaching its peak. I head to the farmers market with an empty straw basket and an open mind. A full wallet helps as well.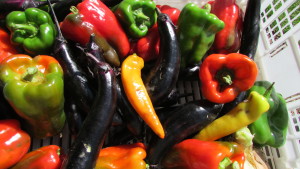 By necessity, we organize our lives to the utmost degree. For many of us, the farmers market is an event, an anticipated part of the weekly routine. However, this excursion also rewards spontaneity, particularly if you venture forth without a list. Going freestyle allows us to get seriously creative with an enticing palette of brilliant produce.
On market day, I challenge myself not to focus on a specific menu or recipe. Strolling the stalls with an open mind and seeing what catches my attention lets me explore and create. Fava beans just came in this week; I ask the farmer her favorite way to prepare them. Rainbow chard flashes among the other greens. Suddenly I envision braised chard with roasted chicken from the poultry guy down the row. Mountains of multi-colored heirloom tomatoes like we dream of in mid-winter? I pick up a sackful along with several earthy heads of garlic and a bunch of herbs, already savoring their rich aroma as they slow roast in the oven on Sunday afternoon.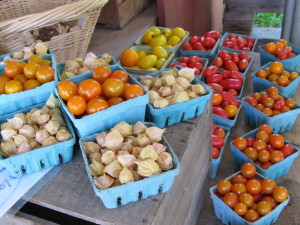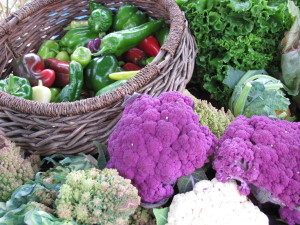 I developed two obsessions last summer: yellow and red beets grated raw into separate bowls to preserve their intense hues, then tossed with a simple lemon Dijon vinaigrette, and gorgeous squash blossoms stuffed with a spoonful of soft goat cheese laced with shreds of basil. Baked briefly until the cheese melts and the blossoms collapse upon themselves, these saffron-colored treasures won a few converts even from less adventuresome eaters. The beets added a crisp texture and stunning color to any meal.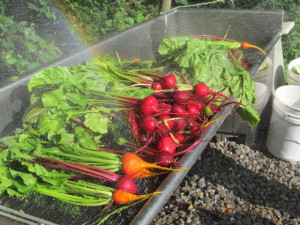 At the market, the vendors reveal their artistry with eye-catching displays. Bunched carrots beckon like orange fingers; a trio of eggplants in nearly black, purple streaked, and creamy white prompt conversation; mottled red and purple, sunset yellow, and striped green tomatoes have broadened our vision beyond the classic scarlet orb. Squeaky clean onion bulbs in pure white and deep purple. Crates of potatoes in blue purple red and white, some no bigger than peas or shooter marbles, others like thumbs. Sunlight filters through jars of golden honey and jams sparkle like rich gems.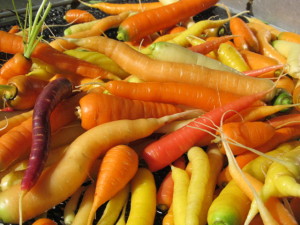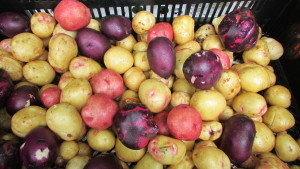 Brilliant field flowers are essential, for what is a table of summer bounty without a vase of flowers in a riot of color? I cannot resist the simplicity of purple coneflower, crisp daisies, cheerful black-eyed Susans, sturdy zinnias in primary colors. I love the elegant stalks of gladiolas and the clutch of sunflowers with faces of gold and maroon. These bouquets provide a gracious touch, a splash of luxury that brightens a room or table.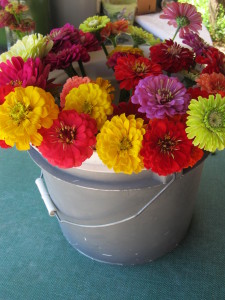 But the heart of the market remains the dedicated farmers and craftspeople. These people have invested entirely of themselves and their families in this agricultural venture, working from dawn to beyond dusk. Hours of preparation bracket the actual market day: harvesting, cleaning, hauling, arranging, weighing, hefting, and then reverse the process at day's end.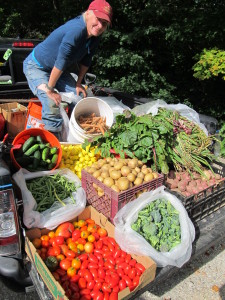 Yet in spite of the arduous hours, the farmers seem eager to meet and greet, just as we hope to connect with the men and women who have cultivated the products we load into our baskets. I take great pleasure knowing that my corn was picked that morning and my tomatoes were plucked from the vine and cradled into a box, then driven a few miles, not across the country.
People say that shaking the hand of the grower who produces our food stands as a contract of good faith, but it surpasses a mere agreement. It reaffirms the shared belief in quality, connection, and community.
In "Field of Dreams," Kevin Kostner committed himself to trust a whisper, "If you build it, they will come." His field of dreams was a baseball diamond, mine is a farmers market. By committing to support our community of farmers and craftsmen, throughout the year where possible, we can make a difference, keeping our agricultural heritage a reality. And we will eat well and have some fun in the process.