Senator Patrick Leahy Brings A Taste of Vermont to Capitol Hill
This "Edible Voices" interview first appeared in Edible Green Mountains, Late Fall 2015. Photo by Brent Harrewyn.
One of the coolest guys in Washington hails from Vermont. Senator Patrick Leahy listens to the Grateful Dead and U2, appears in Batman films and has a passion for photography. This advocate for environmental issues lives with his wife, Marcelle, on a tree farm outside of Montpelier.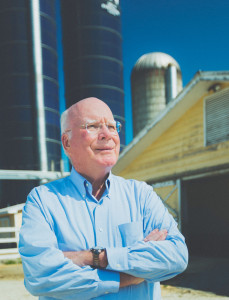 The legendary Senator Leahy in front of his Middlesex barn.
He championed the Farmland Protection Program, which has conserved more than 350 Vermont farms, and he also worked to establish the National Organic Program. The Farm Bills under his purview have emphasized nutritional benefits and food security for all.
For 35 years, he has cared about our community food shelves and dairy farmers, Lake Champlain water quality and the Green Mountain National Forest. In Washington, he chairs the Senate Judiciary Committee, is the senior-most member of the Appropriations Committee and of the Agriculture Committee and serves as president pro tempore of the U.S. Senate, which puts him third in line for presidential succession. And he still finds time to attend the Vermont Brewers Festival.
Edible Green Mountains: Senator Leahy, before we talk about food, tell me about your photography. How would you describe your work and your subject matter?
Senator Patrick Leahy: Being born largely blind in one eye, early on I gravitated to hobbies that only require one good one. I settled on photography and target shooting. My mom and dad gave me my first Kodak Brownie camera, and that seeded a lifelong passion for photography. I still enjoy target shooting at our farm and was even able to win awards on our marksmanship team at St. Mike's. Photographs can be both timely and timeless. They deepen our understanding beyond the ability of words alone. They can bridge gaps from generation to generation and breathe life into our history, and into poignant moments all around us. When I have had opportunities to meet with presidents, popes or villagers in lands abroad, I've often had my camera along, to be ready for when those moments come along.
EGM: Describe an ideal evening and/or weekend at home in Vermont.
SPL: Marcelle and I live in an old farmhouse in Middlesex, in the middle of a tree farm. Quiet moments are at a premium in our lives. When the Senate's in session, during the week I look forward to returning home on the weekend when I can. Some of my favorite evenings are spent walking through the woods with Marcelle, reading a book or some briefing papers in an Adirondack chair in our sloping front yard that overlooks Sugarbush or watching a movie at home with Marcelle and maybe some grandkids, with some hot popcorn. We love going into town wherever we are in Vermont and catching up with friends old and new at a farmers' market, a gas station or a grocery, or just strolling down a picturesque street. In the winter we love the exhilaration of a scenic snowshoe hike, and then coming back home, which often is infused with the warm welcoming spices of mulled Vermont cider.
EGM: Name some of your favorite dishes or meals to prepare or eat.
SPL: My grandmother was an Italian American, and I can still hear her exclaiming the traditional "Mangia! Mangia!" at the dinner table at their home in South Ryegate, Vermont. I still enjoy many favorite Italian dishes and the marvelous memories that come with them. Marcelle's French Canadian ancestry has always been another source of culinary inspiration.
EGM: Does your diet/eating vary when you are in Washington versus at home in Vermont?
SPL: We make an effort to eat healthy wherever we are. Marcelle's knowledge and experience as a registered nurse is a great resource for making healthy and balanced choices and keeping the big picture in mind. Vermont is a trendsetter in making all of this easier and more interesting. We delight in seeing more and more Vermont products in stores and on menus in the Washington area. I've tried to accelerate that trend with our annual Taste of Vermont extravaganza on Capitol Hill, where we bring Vermont food producers to show off our wares. It's become a highly anticipated annual event. The trick is to save enough room to be able to sample it all.
EGM: Seasonal items that you eagerly anticipate each year?
SPL: I always look forward to Sugar On Snow in the winter, but there's also something special about wandering around the first Montpelier farmers' market when it's been moved back outside for the season.
EGM: Guilty food or drink pleasures?
SPL: Marcelle is a superb baker, making the best homemade chocolate chip cookies, banana bread and brownies anywhere. And that's only the beginning of her culinary skills.
EGM: A few ingredients always in your fridge or pantry?
SPL: Organic Vermont milk is always there, along with some of Vermont's best microbrews. Maple syrup is always a staple for us and for our guests, and we often have Vermont artisan cheeses on hand, especially for grating (and nibbling). We're blessed to have the Red Hen Bakery just down the road, where we're conveniently able to drop by for fresh bread and baked goods on the way home.
EGM: In your opinion, what are some of Vermont's food and drink treasures?
SPL: Vermont cheeses today are known far and wide for the quality, ingredients and skill that go into them, and for the taste that results. We're making a name for ourselves on several other fronts as well, from hard cider to healthy school lunches and everything in between. This summer I enjoyed the Vermont Brewers Festival on Burlington's waterfront, where there was plenty of additional evidence that Vermonters are on the cutting edge of innovation in brewing and distilling. Some of the best ideas that I've incorporated into Farm Bills over the years—such as my charter for the highly successful organic standards and labeling program, my farm-to-school and farm-to-table efforts and my forestland protection bills—have originated in discussions I had with innovative Vermonters. It all makes me proud as a Vermonter and eager for the next tasting adventure.