The Dark Art of Coffee Roasting – Convo with Matthew Loiacano
This "Edible Voices" interview first appeared in Edible Capital District, May/June 2015. Photo by Jenn Bakos.
"I had always been bothered by the intense caffeine euphoria," he explained sheepishly. But once he conquered the fear of that which most of us crave, and learned through trial and error that coffee could be smooth and pleasant rather than harsh and bitter, he became a disciple. He now roasts fresh green coffee beans ("I treat them like the farm produce they are") to deep perfection using all five senses: smell, sight, taste, touch and even hearing.
Day and night, this Saratoga hot spot buzzes with energy. Caffeine-hyped conversation bounces off walls richly painted in terra cotta, Tuscan sunset and bay leaf. Burnished copper–shaded lights descend from the pressed tin ceiling. Old school Steely Dan and Talking Heads compete with the silver beast grinding and whirring in the center of the shop, tended by a guy in thick horn-rimmed glasses and a mop of black hair.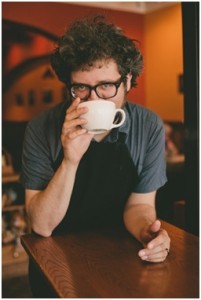 Matthew stands like a wizard in front of the rumbling Probat coffee roaster, consulting temperature gauges and fiddling with levers. You can hear the beans crack as they double in size under the intense heat. He tugs on the magic handle and a torrent of smoking hot beans cascades into the round pan below. A rotating paddle stirs the beans for five to eight minutes as they cool to the touch from their 450° roast. Matthew reaches in and plucks out a couple beans, peers at them intently, cracks one open with his fingernail and pops it into his mouth for a thoughtful chomp. Satisfied, he shakes open a flat coffee bag and begins to scoop in the just-roasted beans.
This man is clearly in his element, like a musician on stage. Which makes sense because he is one. Matthew plays drums and percussion as well as guitar, mandolin and banjo. When not hovering over his roaster, he plays in an acoustic guitar duo.
"A lot of people in specialty coffee started out in the music world," he explains. "In both venues, we're putting on a show with every aspect of service. We can be creative and communicate with our audience. When I'm here at the roaster, people ask me questions all the time. Kids love this machine—they think it looks like a train! It smokes and makes a loud noise. And they know their parents thrive on what comes out."
Uncommon Grounds has anchored this busy junction of Broadway and Division Street at the heart of Saratoga Springs since 1992. Five years later, a second location opened on Western Avenue in Albany. Both shops roast their own coffee on-site and serve an array of wildly popular store-made bagels.
The café welcomes an eclectic mix. "We serve kids in Mohawks and the mayor," laughs Matthew. Near the front window, a skinny-tied hipster sketches on a pad. A gaggle of high school girls chatter away next to a table of sun-tanned retired guys in baseball caps. Others tap at various screens or immerse themselves in books. Young parents sink deep into the comfy leather sofas and armchairs, cradling life-line mugs of joe while toddlers play at their feet. In a nook near the back, a pair of professor types hunch over a chess board. Up front, a line forms along the glass cases filled with decadent desserts. Blackboards post the day's selection of soups, salads and myriad bagel options (and yes, the staff will scoop out the bagel center if you ask nicely).
Matthew has worked at Uncommon Grounds for 14 years in nearly every role: barista, website sales, assistant manager. Since 2010, he has been the lead roaster and also the green coffee buyer. "I love the challenge of roasting because I'm obsessed with getting it right. In reality, it all comes down to a roaster learning how to master his or her own machine, taking into account factors like barometric pressure, outside temperature, weather, age of the beans, etc."
"We roast about 600 pounds of beans each week and offer a wide variety of coffee for our customers. I'd like to pare it down to 10 fantastic coffees. I want to make this process simple, not complicated, so people don't have to wade through a sea of incomprehensible brown bags."
A sensible approach coming from a guy who didn't even drink coffee until a few years ago!
Edible Capital District: So Matthew, why do you find coffee so riveting?
Matthew Loiacono: Like many other creative endeavors, it feels like coffee is a never-ending learning experience. Because each roast can never be exactly the same as the last, roaster operators are constantly beginning again, full of potential. There's always work to be done: palate training, tasting other people's coffees, visiting other cafés, reading about coffee, learning about equipment—and that's all on top of the actual act of roasting. It's really immersive.
ECD: What distinguishes your approach to this craft of roasting?
ML: If I'm trying to do anything at all it's to marry the sourcing of excellent green coffee with conscientious, careful roasting to yield a product that is approachable, interesting and delicious for our customers. Roasters have access to such great coffee nowadays and I think it's important to take advantage of that opportunity to show a unique slice of what is out there. My roasting decisions are based on the thought that in order to balance out caffeine's natural bitterness, one must develop and preserve the simple sugars that are inherent in green coffee but often get roasted out. I'm seeking each coffee's unique personality, aiming to highlight it while still maintaining the ability to enjoy it without any taste enhancements.
ECD: Any ridiculous coffee-related adventures?
ML: None, yet.
ECD: When did you start drinking coffee?
ML: I didn't start drinking coffee till I started roasting it! I worked here for 10 years and never drank it. But once I started roasting, I figured I should be drinking what I'm producing! Caffeine used to bother me—I couldn't handle the intense euphoria. But when we were touring with my band, I would drink coffee from other places: NYC, Ithaca, Northampton. I realized coffee can be smooth, not bitter or harsh tasting.
ECD: How did you educate/train yourself as a coffee roaster?
ML: After a year of being in charge of roasting the coffee at Uncommon Grounds, I became infinitely curious as to how I could improve my results. A series of training workshops, tastings, café visits and peer-to-peer evaluations ensued and I began to see improvements fairly quickly. It's often just one or two decision changes that make all the difference in the world.
ECD: You've been roasting at Uncommon Grounds for five years now. How do you keep yourself fresh and inspired?
ML: I think it's important to maintain a local, regional and national network of likeminded folks who are honest, open and as enthralled with the experience as I am. Swapping samples, honest feedback, suggestions, other perspectives on coffee profiles are all crucial for growth. Luckily, the seasonal/ agricultural aspect of coffee sourcing and production are dynamic enough that any chance of becoming complacent is soon dashed by fresh crop arrivals.
ECD: Your ideal coffee drink?
ML: Anything with thought, craft, history, future, intent and magic behind it gets my attention.
ECD: Teachers/mentors?
ML: The lessons I have learned the most from have been interactions with other roasters, importers, folks in the business and especially our customers. Feedback is so important.
ECD: Other sources of inspiration, beyond caffeine?
ML: My goal with everything in life is to attempt to create beautiful things. There are plenty of harmonious entities out there—coffee and otherwise.
ECD: Describe a typical roasting session at Uncommon Grounds.
ML: Depending on the season, roast weeks consist of three to five days and are based on need. The number one goal is to roast what will be used within two weeks at the store. Mail orders are always one to two days off roast, brewed coffee is usually four to 10 days off roast, retail within a week.
I vacuum out the chaff bin first thing for fire safety, then let the roaster warm up slowly. While it's warming, I'll check our stock and make a list for the day. Next, I scoop and weigh batches of green beans, bring them up to the roasting area (on the sales floor) and prep for the next few hours of back-to-back batches. Each batch takes 10– 15 minutes to roast, depending on the coffee and what kind of roast I'm aiming for. I still hand-log all the data including batch weight, charge temp, turn temp, minute-by-minute temp, gold time, first crack time, discharge time and roasted weight. While the just-roasted beans cool for a few minutes, I'll prep the next batch or bag the previous batch. And repeat!
ECD: Hot new trends in the coffee world?
ML: I'm fairly certain folks are still trying to make the easiest, most approachable and consistent method to brew coffee at home and I don't think it's been discovered yet. Lots of attempts though!
ECD: Any advice for us home brewers?
ML: The number one tip that seems to make a difference is to always use filtered water. Get those Britta and Pur pitchers out! Tap water will not cut it.
ECD: Speaking of home, how do you unwind after work?
ML: Music, dishwashing and hopefully a good dinner with family.
ECD: An ideal day off?
ML: Adventures, friends, family, new foods, new experiences.
ECD: How do you eat/cook when at home?
ML: We've been trying to make at least one new recipe a week; my wife and I love slow-cooker meals.
ECD: Unusual staples in your fridge or pantry?
ML: At least two dozen eggs from the neighbor's chickens, hopefully some vegetables from a farm share, all sorts of cheese, maybe some Heidelberg ciabatta rolls, butter and avocados for smashers/toast—what else do we need?
ECD: Words of wisdom you would impart to anyone who harbors a dream?
ML: I say to friends who are in bands or are new to making music that they will never make their third or fourth record without getting the first one finished and out there. Start something, finish it, learn from it, make another. Apply to anything you create. Repeat process