What An Albany Man Eats – Convo with Author William Kennedy
This "Edible Voices" interview first appeared in Edible Capital District in November/December 2015. Photos by Liz LaJeunesse.
Few people possess as deep a knowledge of Albany as does William Kennedy. This esteemed author, born and raised in the capital city, began his career as an investigative journalist for the Times Union before turning his focus to fiction. Over the course of 37 years, he wrote eight novels that comprise the Albany Cycle, including Legs, Billy Phelan's Greatest Game and Ironweed. In 1983, Kennedy published O Albany!, whose subtitle reveals the content: Improbable City of Political Wizards, Fearless Ethnics, Spectacular Aristocrats, Splendid Nobodies, and Underrated Scoundrels.
The novelist Colum McCann captured the breadth of Kennedy's talent: "Stepping into a Kennedy novel is like stepping into all available art forms. He's a historian, a journalist, a critic, an essayist, a poet, a philosopher, a playwright."
William Kennedy lives in Averill Park with his wife, Ana. At 87, he shows no signs of slowing down, and this irrepressible city along the Hudson River continues to inspire his work. Here, Kennedy reflects on Albany's culinary scene, past and present.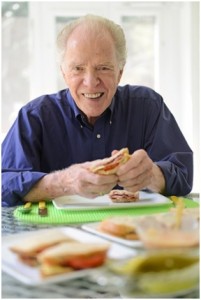 The esteemed author refueling at lunch.
Edible Capital District: I understand you are a man who appreciates a fine meal. What are some of your favorite dishes?
William Kennedy: Lobster asopao, a Puerto Rican recipe, with avocado and platanos maduros (ripe plantains) on the side; flan for dessert. Breaded and Parmesan-crusted chicken cutlet, with pesto linguini. Eggs Lorraine for breakfast. Filet mignon, very rare, with Béarnaise if it's well-made but otherwise, and usually, it's an agent of distortion. With small, red boiled potatoes on the side, butter added to each bite. I once had dinner with the actor Pat O'Brien, and the waiter asked him how he liked his steak. "On a plate with some potatoes," he said.
There was a great triple-decker sandwich, the No. 19, at Joe Kulik's deli on Madison Avenue near Ontario Street, but the shop closed long ago. The No. 19 lingered in the memory, in the Albany air, an incomparable combination of rare roast beef, ripe tomato, shredded lettuce, horseradish and Russian dressing. I always add Swiss cheese though I'm not sure Joe did. And I try mightily to mimic his dressing—it had Worcestershire, mustard, ketchup, mayonnaise, onion powder, a spurt or two of garlic, salt, pepper, horseradish and probably two or three other elements that have been lost to time. Then you need Jewish rye bread from South Pearl Street bakeries that no longer exist, or maybe Joe made his own bread; anyway it was incomparable, and I have yet to find its equal. I also use only two slices these days. Any latter-day No. 19 is invariably doomed to failure, for while the culture has changed, my taste memory has not. But despite that, it's always worth the effort, for, like sex, even when it's bad it's still pretty good.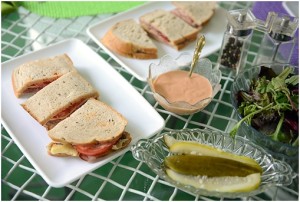 William Kennedy's version of the classic No.19
ECD: Seasonal items that you eagerly anticipate each year?
WK: Butter and sugar corn from Hoffay's farm in Averill Park. Albany or Rensselaer County beefsteak tomatoes. Cantaloupes from Hand melon farm in Greenwich.
ECD: Guilty food or drink pleasures?
WK: I do not recognize guilt in such matters.
ECD: In your opinion, what are some of the Capital District's food and drink treasures?
WK: Jimmy Rua's eggplant with four cheeses at Café Capriccio. Depending on the time of day, a half dozen or dozen oysters at Jack's Oyster House, or possibly oyster stew, then medium-rare/rare liver and crisp bacon. Clams with garlic sauce at La Perla's in Averill Park, and Alfonso's fantastic tomato sauce with capellini, or any pasta. Foie gras, and its infinite variations, is always superb at Yono's and DP Brasserie.
ECD: You're a native Albany man. How have you seen the region's food culture evolve over the years?
WK: We had a restaurant here that died in the mid-1960s, Keeler's State Street, that developed from an 1860s oyster bar into a five-star restaurant with a national reputation, in the tradition of Delmonico's, but surpassed it in its oyster offerings. I wrote about this in O Albany! Throughout the 20th century we always had a handful of excellent restaurants. Ed Koch, when he was running for governor, said we were a backwater for restaurants (and other reasons). Ed Koch either had very limited experience here or he was a gustatorial nerd. We now have an abundance of splendid restaurants—Café Capriccio, McGuire's, Jack's, Grappa 72, Provence, Creo, La Perla, 677 Prime, Yono's, plus another handful in Troy, Schenectady and Colonie.
ECD: What makes our region of New York unique?
WK: Our talent for political corruption; but that's another story. I do think the Capital District has become extremely sophisticated culturally, and its downtowns—especially Troy's—are becoming increasingly hospitable to city dwelling, something that was alien to Albany life for much of the last century.
ECD: How do food and drink figure into your novels?
WK: Drink and food abound in the novels. Albany has always been a notable city for liquid conviviality. One historian noted the origin of this in our Dutch colonizers—"They all drink here, from the time they are able to lick a spoon."
ECD: Do you adhere to any food or drink routines as you write or research?
WK: Drink is the enemy of writing. Food is its reward.
ECD: Name a few people (living or deceased) with whom you would love to share a meal.
WK: William Faulkner, Federico Fellini and Ava Gardner, not necessarily at the same table.
ECD: Most memorable meal you've eaten? Circumstances surrounding it?
WK: In Paris I ordered a bottle of Pomerol for the table and loved it so much that I ordered another one. The price of the Pomerol I ordered was about $60 a bottle. The Pomerol the waiter served us was $750 a bottle. I am writing a novel about the consequences of this event.
ECD: Mentors or sources of inspiration?
WK: Faulkner, James Joyce, Ingmar Bergman, Frank Sinatra, Samuel Beckett, W. B. Yeats, John Huston, Alice Munro, Franz Kafka, August Wilson, Ernest Hemingway, Buster Keaton, Meryl Streep, Duke Ellington, Louis Armstrong.
ECD: Words of wisdom you would impart to anyone who harbors a dream, outlandish or feasible?
WK: Don't quit, unless you're actually dead.
Mr. Kennedy extends his sincere gratitude to Glen Eggelhofer of Rolf 's Pork Store, the venerable meat market located in downtown Albany. Although closed on Mondays, Mr. Eggelhofer graciously opened the shop on the day of the photo shoot to slice this rarest of roast beef which stars in the accompanying photo. Without Glen's kindness, no roast beef, no No.19! Edible extends our appreciation.