About Maria
After 27 years teaching English and serving as Dean of Faculty at an all boys boarding school in New York, Maria decided to swap her dress clothes (let's be honest, they weren't even that fancy…) for Carhartts, flannels and work boots. She unplugged her laptop and headed to Vermont.
Maria now relishes dirty days working at Someday Farm in Dorset and clean days writing about characters and comestibles of Vermont and New York.
And yup, she's still married.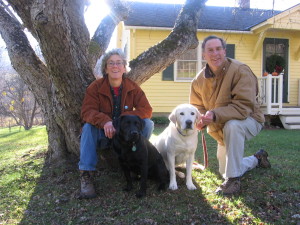 But they share the dogs: Ned's got Ogden and Maria has Ellie.
Maria's work appears regularly in Edible Green Mountains, Edible Capital District, and Vermont Magazine among other publications. You can reach her at mariareade9@gmail.com.