Nine Pin Cider – The Apple of Albany's Eye
This article first appeared in Edible Capital District in September/October 2015. Photos by Liz LaJeunesse.
In early May, a tractor-trailer from Golden, Colorado, pulled up to Nine Pin Cider Works' loading dock. Inside were 25 pallets of shiny apple-green aluminum containers known as slim line cans, 300,000 in all. The truck arrived unannounced, a week ahead of schedule, and it took about an hour to unload the pallets with a forklift and stack them in a far corner of the warehouse. But there they stood, a shimmering green cube worthy of Warhol.
Later in June, the canning machine arrived at this industrial warehouse on the gritty end of Albany's Broadway. Did the owner and his crew know how to operate this new machine? Nope. But in his relaxed manner, 28-year-old Alejandro del Peral shrugged and said, "Where there's a will, there's a way!" That unflappable ethos infuses Nine Pin Cider Works, much like the ginger and raspberry essences that dance through some of their sparkling hard cider.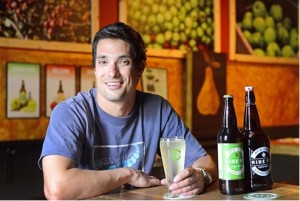 Alejandro del Peral relaxing with his tantalizing Nine Pin cider.
The name itself alludes to the game that enticed Rip Van Winkle into the Catskill Mountains and thus to a keg. Of cider, of course.
Nine Pin Cider is all about local: The apples come from within 20 miles and even the seven members of the crew grew up in the capital area and central New York. Alejandro and his team take great pride in New York's apple heritage. He explained, "We live in one of the best apple-producing regions in the country. I mean, we're the Big Apple! Washington State may grow more apples, but we have the best heritage varieties."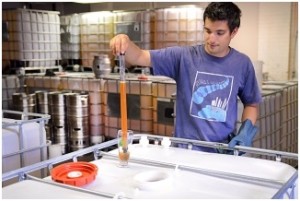 "Is it ready yet??"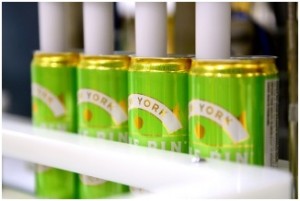 Ahh, those slim line cans…
Alejandro was raised on a nine-acre homestead in Ghent, thick apple country south of Albany. His family had chickens, a few pigs and a two-acre vegetable garden. Over the years, his dad planted 50 apples trees that he started from seed. Each fall, the del Peral family would press cider. That rural atmosphere meshed with Alejandro's innate curiosity. His love for science led to a biology degree from McGill University in Montreal and then graduate work in hydrology at the University of Vermont. Science enticed him to Vermont, but cider pulled him back home.
While living in Burlington, Alejandro apprenticed at Citizen Cider for a year. That was 2012, which turned out to be the worst year for apples in the Northeast. March saw temperatures in the 90s, and then a freeze in May wreaked havoc on the fruit blossoms. Alejandro watched as the Vermont cider makers agonized over how to source sufficient apples. He contacted a few orchardists in New York State who reported a plentiful crop. That's when the concept hit him.
True entrepreneurs have the right timing. Alejandro thought, New York has some of the best orchards in the country, and no one was making hard cider in the area. Why not set up a cidery back home and tap into the capital region's abundance?
So that's what he did. In the summer of 2013, Alejandro and his dad converted a 17,000-square-foot warehouse into the new home of Nine Pin Cider Works. It was bare bones at first: one shiny steel pressing tank and twenty 330-gallon plastic totes to hold the juice as it fermented and then aged. Alejandro laughed as he recalled driving his car inside the warehouse to drag the totes, filled with 3,600 pounds of hard cider, into place. "And then I hired two of my cider makers, Mitch [Rogers] and Jake [Platel]. Who needs a pallet jack when I've got these guys who can lift anything?"
Alejandro sensed the market in this area was young but ripe. He explained, "I knew how to make hard cider; I just had to come up with the capital to start the business and convince an orchard that it was a good idea. Samascott Orchard in Kinderhook got on board right away and it's been great working with them. My parents have also been super supportive. My mom's a lawyer and she oversees the legal and business management end while I handle the operations. My dad helps with the construction."
Nine Pin was the first business to receive the New York farm cidery license in 2013. Before that license, orchards could make hard cider with a farm winery license. But since Nine Pin is not a farm, they weren't eligible for that license. "When the new cidery license came available, we jumped right on it because it fit our business model perfectly."
"I had originally planned on being strictly a wholesale operation," Alejandro continued, "but the cidery license, which we got two weeks before we opened, allowed us to have a retail space and a tasting room on-site. So our retail space and tasting room are relatively small, 200 square feet. We had about two weeks to create it!"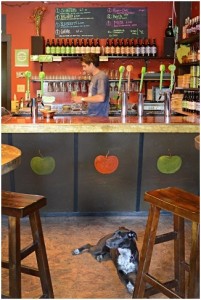 Alejandro and "Cider Dog" in the tasting room.
Nine Pin makes hard cider with 100% New York apples. It takes 7,000 pounds of apples to produce 330 gallons of hard cider. And 99% of those apples come from Samascott Orchard, which grows 87 varieties. Nine Pin also sources apples from Lindsey's Orchard in Rexford, Indian Ladder Farm outside Voorheesville and Rogers Family Orchard in Johnstown.
Cider season begins in September when the apples start coming in. Alejandro and his cider makers start pressing the fresh-harvested apples in the fall and continue through late spring. That freshly pressed sweet juice ferments into hard cider in one to two weeks, depending on apple chemistry and ambient temperature. After fermentation, the hard cider gets transferred to 330 gallon totes for aging.
The aging period is crucial, allowing the cider to mellow and develop its distinct characteristics. Nine Pin ciders age for three to six months, according to style. From a business standpoint, this aging process creates an interesting dilemma: Cider makers are constrained by seasonal availability of fruit, long production time and a high-volume consumed product. As a result, they must press cider continually to keep at maximum storage capacity just to meet demand.
Production happens five days a week. By the end of May, the quality of apples begins to deteriorate so pressing stops. The goal is to have enough hard cider to last until December because the cider pressed from September apples won't be ready to drink until December, factoring in the three-month aging period. The summer is actually low-production time, but there's always bottling and canning to be done.
It takes 10 hours for three people to bottle 500 gallons of cider. 500 gallons of cider fills just shy of 3,000 bottles, 2,909 to be precise. Using a four-head counter-pressure bottle filler, the team fills and caps each 22-ounce bottle. That's the bulk of the daily workload since bottling is constant. However, in June, Nine Pin took another step forward and added a canning line to expedite the packaging process. The new canning machine fills forty 12-ounce cans per minute. Consider the math: 40 cans a minute versus 10 hours for nearly 3,000 bottles. Nine Pin will continue to bottle their cider but the cans offer an alternative for consumers.
A nimble operation, Nine Pin employs seven people. While each has certain responsibilities, everyone chips in with whatever needs to be done. The cider makers, all local boys, have some experience with brewing or fermenting. Ethan Willsie of Berne had experimented with making fruit wines at home. "In retrospect, I didn't know what I was doing. When I got here, I realized I had been doing everything wrong. But no harm done." Jake Platel from Delmar worked at a brewery in Binghamton and did a lot of home brewing. "When I applied for the job, it was either me or someone way more qualified," he quipped. And Mitch Rogers, whose family owns Rogers Family Orchard? "Cider, dandelion wine, moonshine. You know, standard backwoods alcohol making."
"We've all learned together," said Alejandro. "By late May we had produced more than 110,000 gallons of cider. Over that time, we made some mistakes and learned from them. I learned the basics at Citizen Cider, but here, it's a whole new process. We just strive to make the process as smooth and perfect as possible."
Speaking of perfection, gently pour a Nine Pin into a glass and contemplate the tiny Champagne-style bubbles sparkling in this straw-hued beauty. The off-dry, crisp beverage is the antithesis of syrupy sweet, over-carbonated, mass produced hard cider. Nine Pin makes three flagship ciders: classic Signature blend; Ginger aged with dried ginger and orange peel; and Belgian style using an Abbey ale yeast that adds tropical fruit undertones with a creamy mouthfeel.
"We also do special limited releases every two months," said Alejandro. "Hunny pear with New York honey and cinnamon is popular, and in winter, we make a raspberry-infused cider. We also make a single variety using the Golden Russet apple. It's not the prettiest apple and looks more like a russet potato with yellowish-gold rough skin, but the taste is phenomenal. Golden Russet juice is syrupy and concentrated and makes awesome cider. The sugar content is so high that it actually pushes the limit of our alcohol content."
Nine Pin also crafted a dry hop cider made with hops grown by cider maker Ethan Willsie on his farm in Berne. These small-batch editions are limited by the availability of the special ingredients, such as Ethan's hops. He harvested 16 pounds of hops, so that's what went into the Willsie dry hop cider. People love the pear cider, but since the pear crop at the orchard was small this past year, Nine Pin could only use what they could procure.
This summer, Nine Pin pressed all 87 varieties into one blend and called it the Cider Monster, a nod to the mural spray-painted on the wall in the café space adjacent to the tasting room. A guy named Colin from Philadelphia came in one day, looked at the big white wall, and said that would make a great place for a mural. He showed up a few months later with cans of paint, worked for three days, slept in his car, and thus the Cider Monster was born.
Alejandro and his crew report that the public has been very supportive, embracing the products and proving the potential for this kind of business. And the team at Nine Pin makes it fun for them in return, with seven different ciders on tap in their tasting room, open Wednesday through Friday from 4 to 9pm and Saturday from 1 to 9pm. The tasting room offers a great opportunity to sample some of their experimental small batch ciders.
"Every night our tasting room is open, we have a different food truck show up. We call it 'Dine'n at Nine Pin.' It's basically a rotating restaurant scene. Ciders and Sliders is a big hit. Slidin' Dirty from Troy brings their food truck and cooks up all sorts of sliders. We had to get a special permit to have the food trucks here, but the city officials were really helpful. They now recognize food trucks as a progressive way to draw people."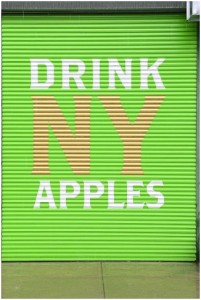 Any healthy business community engages in collaborations. Short and Stout, a tea shop up on Albany's Western Avenue, invited Alejandro and Jake to do a tasting of different teas so they could collaborate on a tea-infused cider. Albany Distilling Company takes some of the cider and turns it into an apple brandy called the Tenth Pin. In turn, Nine Pin ages some of their two-year-old cider in the distillery's spent rye casks. Another venture underway is the Broadway Booze Association, a coalition of Nine Pin, Albany Distilling Company, Albany Pump Station and Druthers Brewery, which hopes to get state funding to promote a local pub crawl on Broadway.
Alejandro said, "We all feel we're part of the positive growth transition. We want to improve this area and breathe new life into these great old buildings. There's so much potential here in upstate New York. Younger people are returning to their hometowns and doing some cool creative work."
He continued, "It's all about having motivated people around, and you can see the resurgence in these urban communities like Albany and Troy. Yeah, there's an element of grime, industrial grit, but that lends character."
While Alejandro acknowledges the stress of running his own business, with lots of money on the line and many sleepless nights, he feels confident. "I love being able to watch the effect we have on the local farming community, even at our small scale. Samascott now is changing the way they're growing their fruit, choosing certain types of apples to meet our needs. We get calls from local orchards offering to sell us apples, and having that opportunity can really make a difference for some of the smaller orchards."
Alejandro picked up an apple-green can, studied it for a moment, then smiled. "I also love being at a bar and watching someone order a Nine Pin. It's cool to create a product that's tangible and watch people enjoy it. And know that we're doing something good for our region."
Well-deserved satisfaction from Albany's own Johnny Appleseed.